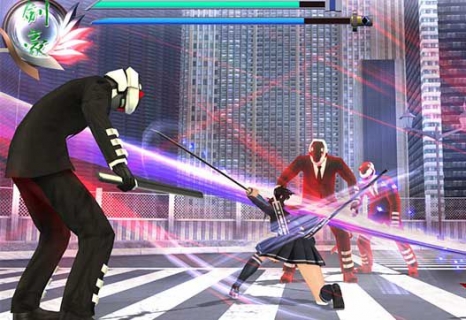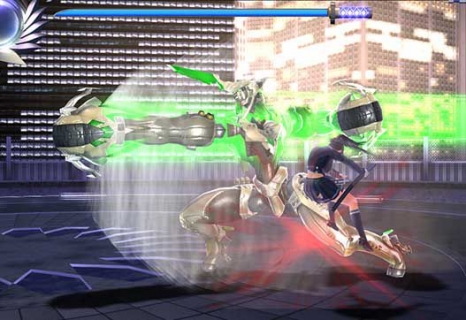 ---
A ballistic tale of two warriors and one demonic blade!
---
This purchase includes a free Steam key plus DRM-free download!
PLAYISM Blog
The Sold-Out Smash hit from Comiket 84 finally in English!
Mitsurugi focuses on high-speed arena-based action. Use lightning fast sword slashes, hand-to-hand attacks and mysterious ancient techniques to defeat wave after wave of demonic foes.
Use skill points to learn new skills, upgrade your abilities, and take on brutal bosses.
Weaken your enemies with vicious wounds, then sheathe your sword to finish them off with style. Employ hand-to-hand techniques to build your katana gauge, then cut deep with your divine blade.
Game Mechanics
(1) Zanshin
Using Zanshin has the following effects. (Please check section 3 for an explanation of how to use Zanshin)
Health recovery

Katana gauge recovery

Deals damage to bleeding enemies
The rate at which your health and katana gauge regenerates depends on the Bloodspirits around your sword. Bloodspirits are obtained by slashing enemies.
The damage you deal to bleeding enemies depends on your level of Zeal.
Zeal is explained in section 2.
(2) Katana Gauge
This game features Zangeki sword attacks and Hand-to-hand attacks. Using Zangeki drains the katana gauge. If the gauge is empty, you cannot attack using your sword. Hitting an enemy with either Zanshin or Hand-to-hand will increase the katana gauge.
(3) Bleeding Status
Landing sword attacks will cause enemies to flash red, meaning they are bleeding. Enemies in this state are weaker and take more damage.
Using Zanshin will damage all bleeding enemies.
(4) Holy Technique
Holding down the "Holy Technique" button will cause you to charge power. Upon releasing the button the stored power will be unleashed. There are two levels of power this can be charged up to.
Pressing the "Release" button mid-charge will shorten the charge duration. Doing so consumes katana gauge.
This game allows you to shorten the charging process to maintain a fast pace.
HUD Explanation
(1) Health gauge
You can use Zanshin to recover missing health.The amount recovered depends on the current amount of Bloodspirits.
(2) Katana Gauge
Using Zangeki attacks reduces this gauge.You cannot use Zangeki attacks if the gauge is empty.
(3) Zeal
Zeal increases when you hit enemies, and decreases when you take damage.The higher your zeal, the more damage Zanshin does to bleeding enemies, and the more SP you gain.Zeal has five levels.
(4) Bloodspirit
Damaging enemies will cause red rings to appear around your sword. The more rings, the more the health and katana gauges will be refilled when using Zanshin.
(5) Hit count
Each hit landed on an enemy increases this counter.
(6) SP
You can use SP to upgrade your skills using the UPGRADE screen.
Gameplay
(1) Hand-to-hand combat
Attacks not involving your sword. Landing these attacks will increase your katana gauge.You can use these attacks even if your katana gauge is totally empty.
(2) Zangeki
Attacks using your sword. These attacks drain your katana gauge.You cannot use these attacks if the gauge is empty.
(3) Holy Techniques
Holding down this button will charge an attack, which will initiate when the button is released. There are two versions based on charge time. If you press the "Release" button as explained in (5), the charge time will decrease. Decreasing the charge time is an essential technique of this game. This is a very useful skill, but will drain the katana gauge.
(4) Zanshin
Zanshin uses accumulated bloodspirits to heal both health and katana gauge.
(5) Release
You can shorten the charging process of skills using this button.There are also attacks you can perform using this button and the hand-to-hand or Zangeki buttons.
(6) Switch
Using this button during boss battles swaps between boss and normal camera. In normal combat, it locks on to the nearest enemy.
(7) Evasion
Moving while guarding will initiate an evasive maneuver.
(8) Dash
Press the Dash button to initiate a dash.When using a gamepad, click in the left analog stick once to dash. You do not need to hold down the stick.Your dash will end when you come to a stop.
Skill
You can unlock and upgrade the following skills using the UPGRADE menu. You can access the UPGRADE menu by pausing the game. You can also access the UPGRADE menu from the Stage Clear screen.
(1) Zangeki
Increases the attack power of Zangeki attacks.
(2) Sonic Slash
Unlock Sonic Slash, a lightning fast horizontal charging slash. You can upgrade this skill to attack up to three times in a row.
(3) Iai Strike
Unlock a powerful, wide range attack. Can be used in the air.
(4) Aerial Zangeki
Upgrading this allows you to unleash Zangeki attacks while in the air.
(5) Hand-to-hand
Upgrading this will increase the amount your katana gauge replinishes when using Hand-to-Hand attacks.
(6) Flash Kick
Unlocks a flash kick attack that can launch enemies into the air.
(7) Comet Kick
Unlocks Comet Kick, a devastating kick unleashed from above.
(8) Sweep
Upgrading increases the damage of the Sweep attack. Upgrading this move will also allow Sweep attacks to break an enemy's guard.
(9) Celestial Judgment
This attack is used if you charge your energy to the first level.
(10) Divine Wind
This attack is used if you charge your energy to the second level.
(11) Counter
Unlock Counter, which allows you to attack after successfully executing a Just Guard. Press the Zangeki button after a Just Guard to counter!
(12) Flourish
Unlock Flourish, which allows you to attack at the instant of a Just Guard. Press the "Holy Technique" button right before an enemy's attack connects.
(13) Zanshin Attack
Using Zanshin will damage all bleeding enemies. Upgrading this will increase damage dealt.
(14) Maximum Health
This upgrade increases your maximum health.
(15) Health Recovery
This upgrade increases health recovered using Zanshin.
(16) Katana Gauge
This upgrade increases your katana gauge capacity.
(17) Katana Gauge Recovery
This upgrade increases the amount of katana gauge restored by hitting enemies.
Free Steam Key
Purchase the Playism version of Mitsurugi Kamui Hikae and receive both the DRM-free downloadable version and a Steam version of the game, FREE. Two copies of the game for the price of one!
*redeem your free Steam Key by going to your personal Playism Account page following purchasing the game. (Steam key availability is subject to Steam release).
ZENITH BLUE Creator`s Voice
Japanese high school girls and Japanese swords.
This combination has been done so many times in manga and anime but it's not something you see much in games.
This indie game was created from a desire to enjoy an action game with that classic schoolgirl sword combination as its core.
---
Minimum system requirements

Windows
OS: WindowsXP / Vista / 7 / 8
CPU: Intel CORE2 2GHz or better (recommended)
Memory: 2GB or more 
HDD: 200MB or more
Graphics: Directx 9.0c (Shader Model3.0 or better) ※Geforce 9600GT or better (recommended)
Sound: Directx 9.0c Compatible Sound Card
Controller: Keyboard or gamepad
*Gamepad recommended
---