Helen's Mysterious Castle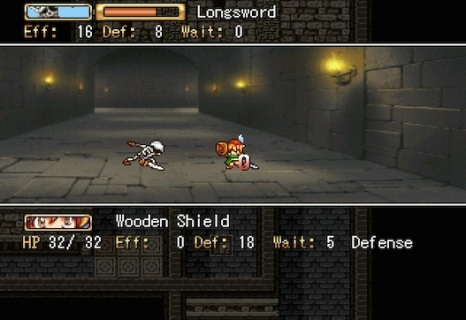 ---
A young girl with a hidden past goes on a journey in hopes of learning more about her past in this indie RPG adventure.
---
STEAM KEYS: All users that purchase on PLAYISM will receive a

FREE

Steam key!


Helen knows little about who she is and where she is, but she's dying to find out. Stuck on a floating island with a maze-like castle begging to be explored, Helen lets her curiosity get the better of her. It's a good thing she's more than capable.
Armed with a plethora of weapons she finds on her journey, Helen must battle monsters, collect new equipment, and uncover the secrets of her mysterious home.
A Cornucopia of Weaponry
Helen spends the game fighting on her own, and she wouldn't have it any other way. Using the unique 1-on-1 combat system, Helen can collect weapons, and switch between them during battle as the situation dictates.
Using the passage of time and a knowledge of your opponents, you can quickly bring out the right weapon for the job and finish off foes before they have a chance to react.
Upgrade weapons using experience points gathered from defeated enemies, collect new weapons hidden within the labyrinth, and build the perfect arsenal.
Equip and upgrade weapons of all shapes and sizes, from bows and shields to broadswords and devastating magic spells. Learning when to use each weapon is the ultimate key to victory.
A plethora of amazing tools await you.
| | |
| --- | --- |
| Sword | With the ability to both attack foes and mitigate damage while drawn, swords are a versatile weapon for battles. |
| Bow | Bows are fast and lethal weapons, though they cannot defend you in battle. |
| Magic | Magic spells come in all shapes and sizes, and deliver devastating damage to foes, but only after a considerable casting time. |
| | Primarily for defense, shields can protect you from a particularly damaging attack when timed correctly. |
| | A plethora of support items exist that can help you in a variety of ways in battle. While they don't directly damage foes, they might still save your life in a pinch. |
The Cast
Helen
Our heroine. A girl of few words.

Ardis
A man that lives with Helen.

The Demon King
Ruler of the Four Lords

Undead Knight
He seems to appear wherever Helen goes.

Zack
A hero.

The Fairy
The hero's attendant.
Death isn't the End
Death can come swiftly in the world of Helen's Mysterious Castle, but it's not the end of the adventure. Every time Helen perishes, she'll reawaken in the cabin with a piping hot salisbury steak ready to eat. Gobbling up this delicious meal will grant her a permanent increase to her life, making otherwise difficult foes just a little easier.
Bugs and Support
A small text bug might occur on some Windows machines when starting up the game, making the in-game text harder to read. To fix this bug, please follow the instructions below:
NOTE: These instructions are designed for Windows 7. Menu options might vary in older versions of Windows.

Go to your Control Panel

Open the Region and Language menu item.

Click on the Administrative tab

Under "Language for non-Unicode programs", click the "Change system locale..." button.

Click on the drop down menu and select "Japanese"

When the pop-up appears, click "Restart Now" to accept the changes.

Creator's Voice
This indie game was designed to make you think, just a little bit. Players have to figure out the answers for themselves, but the game isn't meant to be overly complex. Anyone who's tired of either games that are simply too complicated or conversely having their hand being held throughout the game might have something to take away from this title. Because this indie game was originally made so most people could play through it without too much trouble, I've added a trickier bonus dungeon for those playing the English version, who I assume will be more 'core' in what they're looking for. And if that isn't enough, there's one more interesting surprise waiting for you...

This game is made so that pretty much anyone can play through it, but I've added a trickier bonus dungeon for those playing the English version, whom I assume will be more core players. And if even that isn't enough for you, there's one more interesting surprise...
---
| | |
| --- | --- |
| Windows | OS: Windows 2000 / XP / Vista / 7 / 8 |
---
User reviews
Simple yet oh so good
(My Rating is based off of my own enjoyment of this game.)

A RPG where you go on an Adventure to find out the mystery of this floating castle to see the real world again with are lovely character Helen, only she does not remember much but she can have full conversations using only "!" and "?" Amazing~

Adventure/Dungeon Crawler/Turn-based RPG with some comedy...game will run for 8-10 hours backtracking is mostly to find lore and hints for items you may have missed along the way.

Well do you think i missed out on anything Helen?

Helen: !

Oh you're right i did forgot that you use EXP to level your weapons/shields/spells good catch~
---