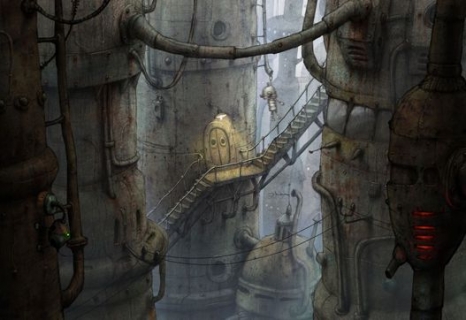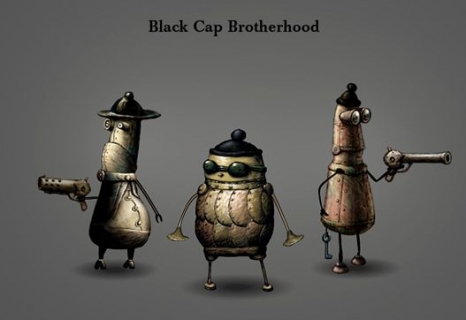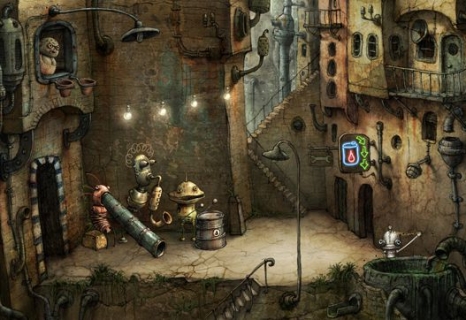 ---
Award-winning independent puzzle / adventure game developed by the makers of popular web-games Samorost and Samorost2.
---
An adventure game loved by fans all around the world.
Machinarium is the first full-length adventure game from Amanita Design in which players take on the role of a robot who has been exiled to the scrap heap.
Players must use logic, collect important items, and solve environmental puzzles to get the robot back into the city of Machinarium so he can rescue his robot-girlfriend, save the head of the city, and defeat the bad guys from the Black Cap Brotherhood.
FAQ

How long is the full game in comparison with the demo?
The demo is about 10% of the full game. The full game has 30 locations, many standalone puzzles and mini-games. The difficulty level of the puzzles rises slightly towards the end of the game.

Is it possible to enlarge the game window to fit on my big screen?
Unfortunately, no. You can only view the game in 100% mode (1250x790px) or 80% mode (1000x632px).

The game run really slow sometimes. What should I do?
Make sure you hardware acceleration in Flash Player is disabled:
Right-click (or Ctrl-click on a Mac) on the screen. Choose Settings. Click on the icon at the bottom left corner. Make sure that the hardware acceleration box is unchecked.
Try running the game in window mode (fullscreen: off).

I have lost my saved posetions after the restart. Why?
If you have lost your saved slots in the full version of Machinarium, please "click here" for more infomation and advice.

Mouse alignment is weird

Please try right clicking Machinarium.exe, go to the Compatibility tab, check "Disable display scaling on high DPI settings".
Please see this STEAM thread for more detail or solutions.
http://steamcommunity.com/app/40700/discussions/0/630800447045678145/?l=japanese

Awards
IGF 2009, Excellence in Visual Art Award
Nomination for 13th Annual Interactive Achievement Awards(DICE Awards)
Gamasutra, Best Indie Game of 2009
VGChartz.com, Best Indie Game of 2009
PC Gamer, Best Soundtrack of 2009
Metascore 85
One of the most beautiful games to hit home computers in a long time. 100/100 - The A.V. Club "GAME REVIEW Machinarium" -
With a brilliant musical score, gorgeous artwork, solid adventuring mechanics, and a ton of other generic positive reviewer comments I can heap on it, Machinarium is elevated from merely good to gaming greatness, and I can only hope that the minds at Amanita produce some more masterpieces like this one 90/100 - GameCritics -
Remakes and IP revivals may be raking in the big bucks at the moment, but this artistically unique original is the game that really deserves your love and respect. 90/100 - games(TM) [Nov 2009, p.106] -
It's as accessible and charming as any Pixar creation, and it's completely won over this reviewer's heart. 88/100 - PC Format [Christmas 2009, p.95] -
This is excellent, independent game design - a small, self-contained, and awesome experience, easily justifying the $20 asking price 85/100 - GamerNode -
But the puzzles themselves are nearly an unmitigated joy. 8/10 - Edge Magazine "Machinarium review" -
Amanita Design Creator's Voice
We poured all of our heart into this work.
We believe that any players who spend time with this title will understand what makes it so special.
---
Minimum system requirements

Windows
OS: Microsoft® Windows® XP/Vista/7
Processor: 1.8 Ghz Processor
Memory: 1GB Ram
Hard Drive: 380MB Free space
Mac OSX
OS: OS X version Leopard 10.5.8, Snow Leopard 10.6.3, or later
Processor: Intel Mac 1.8 Ghz
Memory: 1 GB
Hard Drive: 380MB free space
---