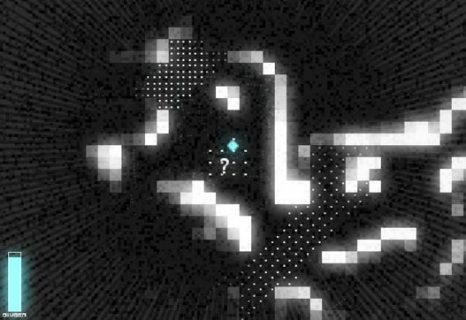 ---
You are Catherine Dubont. The Laser Drill opened a cavern 10 miles beyond the surface of the earth.
---
SONAR A stealth game where excellent hearing is your greatest asset.
SONAR is a survival horror game with a focus on sound design rather than graphics.
It uses a minimalistic graphical style to create an alien world in which the player has to avoid several hazards.
Due to absolute darkness concealing the game's world, she is forced to use the SONAR-O-MATIC 3000.
With this scanning device the player is able to cross the bridge between auditive and visual sensory and to be able to orientate and survive.
Nerdy Bird Creator's Voice
While creating SONAR with literally no budget and no access to professional graphics artists, decision was made to focus on an elaborate sound design using the huge resources provided by www.freesound.org.
The premise therefore was to build everything around the idea that sound plays a bigger role in the game than visuals.
Going from there, a world had to be created where there were no visuals at all, which leads to the scenario of being stuck 10 miles beneath the surface of the earth.

Every single design element was deducted from this premise.
If there is no light, then any creature evolved in the depths of these deep caverns won't orientate by light but more plausibly by sound, just like the player does.

The gameplay genre therefore was fixed: stealth game based on sound recognition.
---
Minimum system requirements

Windows
OS: Windows XP/ Vista / 7
CPU: Single Core 3.0 Ghz
RAM: 1 GB
Memory: Over 60 MB
---