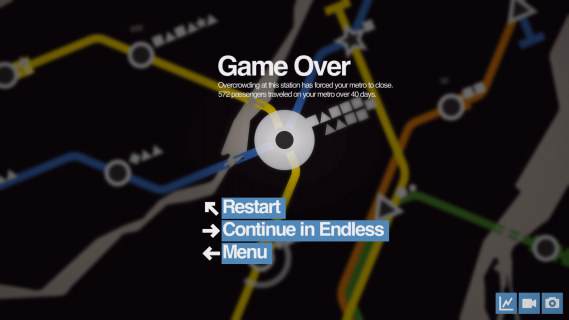 ---
Mini Metro is an indie strategy simulation game about designing a subway map for a growing city. Draw lines between stations and start your trains running.
Keep your lines efficient by redrawing them as new stations open. Decide where to use your limited resources. How long can you keep the city moving?
---
STEAM KEYS: All users that purchased on PLAYISM will receive a FREE Steam key!
PLAYISM Blog Article
---
About the Game
---
In Mini Metro, you take on the task of designing the subway layout for a rapidly expanding city. Your city starts with three stations. Draw routes between these stations to connect them with subway lines.
Commuters travel along your lines to get around the city as fast as they can. Each station can only hold a handful of waiting commuters so your subway network will need to be well-designed to avoid delays.

The city is growing. More stations are opening, and commuters are appearing faster. The demands on your network are ever-increasing. You'll be constantly redesigning your lines to maximise efficiency. The new assets you earn every week will help immensely ― as long as they're used wisely.

Eventually your network will fail. Stations will open too quickly. Commuters will crowd the platforms. How long the city keeps moving is up to you.
---
Key Features
---
Compelling, constructive, hectic, relaxed gameplay. If that makes sense. It doesn't though, aye? You just gotta play it.
Three game modes: Normal for quick scored games, Endless for stress-free sandbox play, and Extreme for the ultimate challenge.
Eleven real-world cities to design subways for (London, New York City, Paris, Berlin, Hong Kong, Osaka, Saint Petersburg, Montreal, São Paulo, Cairo, and Auckland). Each has a unique colour theme, set of obstacles, and pace.
Random city growth, so each game plays out differently. A strategy that proved successful last game may not help you in the next.
Each game's map is a work of art, built by you in the classic abstract subway style of Harry Beck. If you think it's a keeper, save it, tweet it, show it off or make it your desktop background!
Soundtrack by Disasterpeace
Colorblind and night modes.
Trains! Did we mention them yet?
---
Game TIPS
---
When you see the clock on the top right of the screen, try clicking on that. Now you can use pause or fast-forwarding function. When your lines get too busy, just pause the game and take your time to create a better design.

You can connect/disconnect the line to the station by clicking and dragging your mouse. If you just swipe over the station, it won't work properly, and it might even makes your network messy.

Trains with no passenger can be moved to the other lines. In case one of your lines is getting too long, why don't you think about transfering the trains?
The asset list you can see at the bottom of the screen can be displayed all the time by clicking the lock icon in the center.
When you click the line icon shown at the bottom of the screen, an "X" badge appears along with it. Clicking on this will remove all the lines with the same color. It is handy when you need to redesign the whole map, but use it wisely.
This is not a hint for the game, but you need your Facebook account to use ranking or try the daily challenge.

---
Demo
---
You can check out Mini Metro for yourself and play a game on the London map in the demo.
http://dinopoloclub.com/minimetro/
The demo uses the Unity webplayer, so you'll need the Unity plugin (Windows and OS X only unfortunately).
---
Developer's Voice
---
When tasked with taking the initial game jam concept and turning it into a fully-fledged title, we fought to retain the minimalist elegance that made the original such a charming indie game.
This was a struggle as the natural urge is to add as many features as possible!
We are happy with the balance that we struck and proud to present the final product as easy to get into but with plenty of depth for long-term play.

---
Updates
---
・2017/1/13: ver17
Seoul, Shanghai are now added along with the new music score by Mateo Lugo.
・2016/11/08: ver14
Facebook connection between sessions are improved, etc..
・2016/10/24: ver13
- Added San Francisco.
- Lines can now cross! Don't do it too often as trains slow down to traverse each intersection.
・2015/7/15: ver12
Fixed the crash when starting the game from within a directory named with non-ANSI characters.
Added European Portuguese translation.
Added logging around the Daily Challenge.
-novignette and -notint can now be specified on the command line to hide the vignette and tint.
Resuming an archived game now correctly restores the score.
・2016/5/27: ver9
Small bug fix including Leaderboards issues.
Tapping the control key will play a quick red burst animation on top of the mouse cursor. Handy if you've lost it!
Screenshot and GIF save notification messages no longer persist past their useful lifetime.
・2016/2/10
Small bug fix.
All audio samples are now compressed with FLAC instead of Vorbis, resulting in shorter load times and slightly higher-quality audio.
・2015/12/22
Small bug fix.
Swedish now available.
・2015/12/04
Small bug fix.

---
Minimum system requirements

Windows
Minimum:
OS: Windows XP, Vista, 7, 8 or later
Processor: 2 GHz or faster processor
Memory: 512 MB RAM
Graphics: Shader Model 2.0
DirectX: Version 9.0c
Hard Drive: 300 MB available space
Mac OSX
Minimum:
OS: OS X 10.7 Lion or later
Processor: 2 GHz or faster processor
Memory: 512 MB RAM
Graphics: Shader Model 2.0
Hard Drive: 300 MB available space
Linux
Minimum:
OS: Ubuntu 12.04 LTS or later
Processor: 2 GHz or faster processor
Memory: 512 MB RAM
Graphics: Shader Model 2.0
Hard Drive: 300 MB available space

---