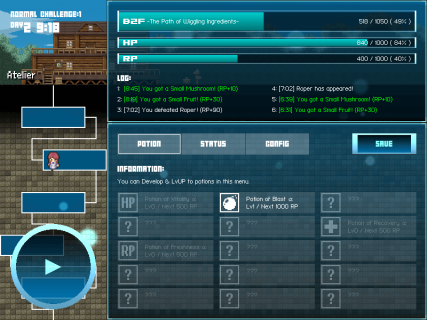 ---
Can you make it to the lowest level? Power up using potions and clear the dungeon in this automated exploration-based RPG
---
STEAM KEYS: All users that purchase on PLAYISM will receive a

FREE

Steam key!
TRIAL version is available for FREE! Click "Download free demo" below "Add to cart" to download.
PLAYISM BLOG
UPDATE
Oct/16 : ver1.00 -> ver1.01
Bug Fix: Fixed the bug which the game crashes at the start-up.
* You can keep your previous save data by copying the "Save" folder from the previous version.
Story
A magical potion store stands in a forest on the outskirts of town.
The proprietor - the self proclaimed "Witchling" - Pastel, murmured one day:
"Arrgh I can't be bothered with stocking up on ingredients! Can't somebody else do it for me?!"
A shady-looking customer had overheard her:
"So you wish to be able to easily stock up on potion ingredients, eh?"
...The following morning, inside the shop was a mysterious underground dungeon, filled with countless organic matter.
In order to complain to the person who had dug a dungeon in the shop without her permission, Pastel began to prepare herself for her underground investigation...
Key Features
This title is an automated exploration-based RPG.
As the automated exploration progresses, use resources you pick up along the way to craft potions, and power-up Pastel. Head to the dungeon's lowest-level!
Media Listing
・Mogura Games -
 "MAGIC POTION EXPLORER" - An automated exploration-based RPG, similar to "Cookie Clicker"
 Clear the troublesome dungeon using the power of potions!
・WINDOWS FOREST - [605th weekend game]
  "MAGIC POTION EXPOLORER" - An automated-exploration-based RPG where you keep on developing potions
Words from Developer
In the past, we had focused solely on developing visual novels, but having since become familiar with handling development tools, we have attempted to create a more "game-like" game.
This title is an indie RPG-like game that incorporates elements of clicker games.
Consume resources and unlock loads of upgrades, and pave the way for new resources... We would like for users to be able to enjoy that uniquely satisfying experience when playing this title.
Please enjoy seeing Pastel become stronger, tougher, and more ruthless.
---
Minimum system requirements

Windows
OS: Windows 7 or newer
CPU: Pentium III 1.0GHz or more
Memory: 256MB or more
DirectX: 9.0 or better
Resolution: 800x600 or more

---
User reviews
Short, lacks content and hard to run
The game plays as thus: Your character will automatically battle enemies and search for treasure by herself. All you need to do is buy upgrades for her when you make enough cash. It's strangely addicting game but it's not very engaging and it becomes boring fairly quickly. In fact it reaches a point where you just start doing other things on your PC while you're waiting for enough cash to buy the next upgrade.

Eventually your character will hit a stride where you can just leave them alone and they'll be okay for ages.

The game isn't terribly long either, you could knock it off in maybe two hours. Maybe longer if you tried hard mode.

This might just be me which is why I mentioned it last but the game was very difficult to get up and running. It'd crash upon starting and when I did get it to work the game couldn't even load the title screen right and I couldn't progress. It even crashed after the credits and I never got the game working again.

There are some highlights to the game though. Through it's (rather few) cutscenes there is some amusing humor going on. The music is nice and the art style is cute.

I wouldn't really recommend this game to anyone though. It feels like it could of been a free smartphone game, or at least one that costs a couple of bucks.
Simple, but sweet
Disclaimer: Although the game originally didn't run until the developer posted an updated version of the client, I'm going to disregard that since it didn't impact enjoyment of the game itself.

The first thing point to take into consideration before purchasing is that a single run is usually between 2 and 3 hours and a majority of the replay value is in complete a run while imposing restrictions on yourself for achievements.

Through cute art and a whimsical little premise, you manage the heroine's journey. Your ability to reach the bottom isn't in doubt since the challenge is in how long it'll take. The overall feel is reminiscent of "clicker" games where you make forward progress at an exponentially higher rather through spending acquired resources on improvements, but the amount of interaction is limited the upgrade options and not direct participation in resource gathering. As the heroine grows stronger, her attack animations also increase in ferocity. Enemies and environments are mainly palette swaps, but fun details are in the flavor text of floor and monster names. Although there are only a handful of cut scenes for the story, it is sufficient considering length of the scope of the game. The music is fitting for each of the settings as it transitions from quaint potion shop to exciting journey.

Overall I would consider this a fun game to spend spare time with while performing other activities. It doesn't require dedicated attention unless you're trying to meet specific challenges for achievements, so it can keep your hands busy while watching a show.

An immediate improvement that could have been made is the additional of additional dialogue or cut scenes when optional criteria is met. I've played through about 3 or 4 times, but performance doesn't seem to have any impact on the story or dialogue. It is possible that completing the game at a rank below B results in a different ending, but I haven't verified this. Even though there are achievements that are obtained without completing a run, there doesn't seem to be any indications within the game for any of them. Specifically, it would have added more personality to the characters if dialogue was added to each of the achievements associated with reaching the 50th floor or dying on the last.
---