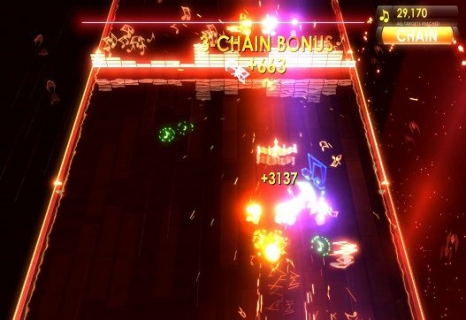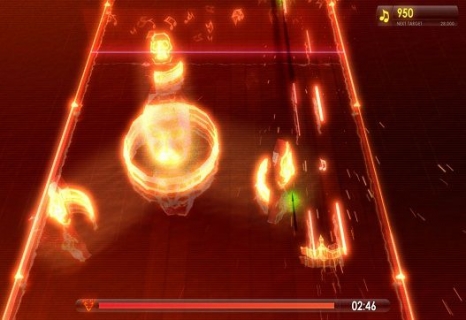 ---
Your music is under attack, you must liberate it!
---
About The Game
A mysterious entity is absorbing and corrupting your music before your very eyes.
You must battle through your own song collection, discover items, customize your ship and fight boss enemies to liberate the Symphony of Souls and reclaim your music!
Symphony is one of the most music-driven games ever made. In this vertical shooter, re-experience each of your songs as it becomes a unique battlefield driven by intensity and tempo.
Your music collection is now an item collection! Each of your songs contains an item you can discover, equip and upgrade. Fully customize your ship to reach score targets, upgrade items and unlock new difficulty levels.
Showcase your skill. Symphony's innovative per-song leaderboard rewards you more, when you dominate with less powerful weapons. Find the loadout that suits your style and show what you can do!
Symphony is a game created by your music!
To fully enjoy it, copy your favorite songs to your computer and start the game.
Although the game comes bundled with some great music, we find that music is a very personal experience and that the game feels even better when you are playing music you love.
The game itself is pretty straightforward, but Symphony is unique in many ways.
We recommend you go through the tutorial the first time you play, to make sure you see everything the game has to offer.
Another unique aspect of Symphony is that each one of your songs provides you with an item!
So don't hesitate to bring in a variety of songs to play; you will be the better equipped for it.
Key features of Symphony
Battle a mysterious entity that absorbs and corrupts your music as it plays

Cutting-edge music analysis adapts the game to any song you like!

Innovative per-song leaderboard system rewards you based on your weapons and the difficulty level

5 unique sets of boss enemies to conquer

6 difficulty levels

Discover, collect and equip weapons hidden inside your own music collection

30 achievements/medals to unlock

Supported file types: MP3, M4A & AAC (runs using QuickTime), OGG, WAV, FLAC, WMA, AIFF, WV, APE

Full amBX™ support (cool lighting!)
※QuickTime is a trademark of Apple Inc.
amBX™ and the amBX logo are © 2008 amBX UK Ltd. All rights reserved.
Although the concept of Symphony is simple, it is one of the most fun and addicting experiences I've had in a good while. Much of the enjoyment comes from the title's ability to incorporate personal music files. Great controls, fun upgrades and a level count that is matched by the number of MP3 files in your collection, Symphony offers a fantastic thrill for a great price. 4.5/5 - DarkStation "Symphony" -
The rhythm videogames are not dead and the software house Empty Clip is here to prove it, with an incredible and adrenalinic shoot'em up. Symphony is a must buy for all music games lovers. 8.7/10 - Everyeye.it "Symphony - Recensione" -

Symphony is fun, pure and simple. 84/100 - PC Gamer [Dec 2012, p.75] -

Symphony is an exciting mouse-controlled shooter that delivers a dynamic way to enjoy your favorite music. 8/10 - GameSpot "Symphony Review" -

What happens when you mix a modern variant of Space Invaders with your own music track list? Then you'll get Symphony. This colorful, but chaotic game will be a fun experience for those who like their game to random generate levels around their own music. From Chopin to Pantera to The Rolling Stones: be creative! Unfortunately, Symphony is rapidly becoming a broken record, which makes this title perfectly suited for shorter play sessions. 7.5/10 - XGN "Review Symphony" -

Empty Clip Studios's Creator's Voice
We all feel strong emotions while listening to the music we really enjoy.
Both of us are passionate about games and music, and we always wanted to create a game that would capture this range of emotions that's uniquely present in every song!
The game design evolved quite a bit in the 3-4 years it was in development. It started out as an experiment in generating procedural creatures out of the music.
But the more we played, the more we realized that the most fun we had was with procedural gameplay: when the game adapted in real-time to the emotions of the music.
We also wanted to create as deep an experience as we could, to compel players to explore and rediscover their music collection.
Symphony has an ongoing storyline with multiple boss battles and unlockable difficulty levels. Each song in your collection contains an item you can unlock, upgrade and equip on your ship.
Together, it all provides a richer experience, based on your own music!
---
Minimum system requirements

Windows
OS: Windows® XP / Vista® / 7
Processor: 2 GHz or higher
Memory: 2 GB or higher
Hard drive: 256 MB
Video card: 256 MB, DirectX® 9.0c-compatible, Shader Model 3.0 or higher
Audio: DirectX 9.0c-compatible

---