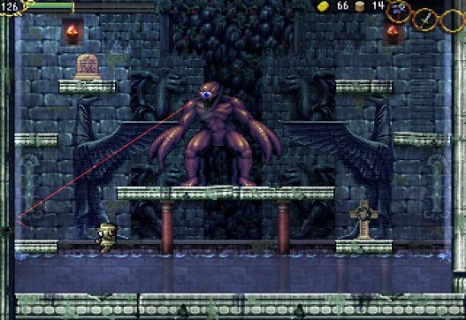 ---
Seek out the Secret Treasure of Life, and unravel the mystery of human origin!
---
STEAM KEYS: All users that purchase La-Mulana on PLAYISM will receive a FREE Steam key.


2017/2/23(Update): Crash issue fixed. 1.6.6.1b available
Below issue is now fixed. Please use the new version.

2017/2/23: Crash issue with the new 1.6.6.1 version
It seems the new version 1.6.6.1 crashes upon start-up of the application after installing it.
We've reverted back to the previous version which is 1.5.5.1 for a moment.
We sincerely apologize for all the troubles caused by this issue. We will investigate and bring the new version back as soon as possible.
Will you fall prey to deadly traps or unravel the secrets of La-Mulana?
La-Mulana is an "Archaeological Ruin Exploration Action Game" in which you search inside ancient ruins, seeking out the " Secret Treasure of Life" – which sleeps in the sprawling ruins of "La-Mulana" and is said to be the beginning of all civilization.
Apart from the plethora of traps lying in wait to stop intruders, there are also monsters on the prowl, protecting the ruins.
Head for the innermost depths of the ruins while solving a variety of mysteries, fending off monsters, and disarming traps.
Forging ahead will be no simple task – the further into the depths you reach, the more difficult the mysteries become.
Take control of the archeologist "Professor Lemeza" and uncover the origins of mankind!
The first run of NIGORO games. Created back in the creators' "amateur" days and renowned worldwide, it was remade for WiiWare. This is the PC port version.
This game, which originated from the creators' wish to play the sort of games that enthralled them back in the day – only with more volume – was created based on "that old-time feeling".
The operability and difficulty level are certainly not "new school".
However, this game is highly recommended to gamers seeking out that feeling of total immersion that allows you to go full-on head-to-head with a game not found in somewhat lighter fare.
Please consider this game to be our challenge to you.
Play through the entire game till your fingers bleed, give up and throw it out the window, or get help from strategy guides. The choice is yours.
La Mulana is a gem of pure gameplay, based on exploration and old-school action. It may not appeal to everyone, for its formula and for its challenging difficulty, but those looking for a solid action adventure in 2D gloriousness should look no further. 9/10 - Everyeye.it "La Mulana - Recensione"-
An extremely well thought-out metroidvania. While its fiendishly obscure puzzles are a source of endless frustration, hardcore fans of the genre are in for a treat. For others it may border on the unbeatable, so best prepare well! [Nov 2012] 84/100 - Pelit (Finland) -
Behind the dusty retro-facade hides an arduous adventure that calls for brains as much as for sleight of hand. 83/100 - 4Players.de -
Beyond the seemingly insurmountable wall of challenge, La-Mulana is a brilliant title that exceeds in just about every category. Art, music, breadth of content, game length -- La-Mulana gets the highest marks. But there's simply no denying that the difficulty, as fair as Nigoro purports it to be, is a major deterrent. 8/10 - Destructoid "Review: La-Mulana (Remake)" -
What makes La Mulana work is the way all its elements come together. It's never about straight combat, or platforming, or even puzzle solving, but rather a combination of the three at all times. 4/5 - Hardcore Gamer Magazine "Review: La Mulana"-
There's a lot to admire in La-Mulana. After struggling to hit Western shores in its WiiWare incarnation for years, it's a treat to finally be able to play it. Actually, it's not a treat. It's a nightmare. But if the success of Dark Souls has proven anything, it's that there's a world of people out there who just want to be punished. 80/100 - games(TM) "La-Mulana review" -
NIGORO Creator's Voice
There's no such thing as a "retro game"! The underlying theme of NIGORO games is: "What if games had continued to evolve – but stayed in 2D?"
As games became more and more predominantly 3D, the 2D games which had until that point continued to evolve at an astonishing rate were simply allowed to die out.
Currently, 2D games are once again finding acclaim, and while they are still few in number there are more and more ports of past games and "retro-style" games being published.
We, however, do not rank 2D games as "retro games".
We consider them to be simply another form of game-based expression; one which simply differs from 3D.
The ability to precisely measure the distance between your character and an enemy based on the number of dots; graphics symbolizing information which can be straightforwardly understood…
2D games are in no way relics – we feel that they still have plenty of room to evolve, and they hold a certain type of fun which can only be expressed in 2D. It is for these reasons that we continue to pursue and encourage the evolution of 2D games.
LA-MULANA 2
---
Minimum system requirements

Windows
OS: Windows XP (compatible with the latest service pack)
CPU: Intel® Pentium 4 / 2.0GHz
Memory: 1GB RAM
Graphic board: Graphic board fully compatible with DirectX 9.0c, with at least 128MB of VRAM
Hard disk: Hard disk with at least 500MB of free memory
Sound card: Sound card fully compatible with DirectX 9.0c
DirectX: DirectX 9.0c

---