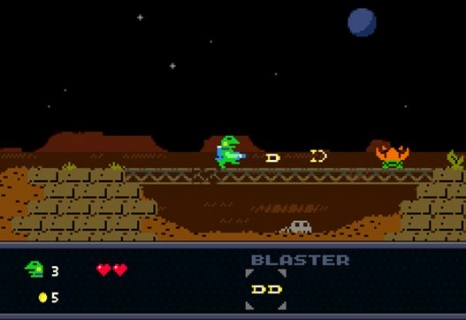 You can also have
Kero Rhythm (Kero Blaster OST)
$4.99

Kero Rhythm (Kero Blaster OST).
Kero Blaster/Rhythm set
$9.99

Kero Blaster/Rhythm set.
---
C&F Inc. teleporters are going offline all over the place, and it's up to an intrepid frog employee to fix the situation.
---
---
"Kero Blaster ZANGYOU Mode" update coming on Oct 11th!
---
On October 11th, we will release the upgrade of Kero Blaster, "Kero Blaster ZANGYOU Mode" which has more stages than the original. If you already bought the current version, you can download the new version for free once it is released.
We are planning to increase the price due to this upgrade, so you will actually be getting the upgraded version at fantastic discounted price if you buy it now.
Also, we just released "PINK HEAVEN" which is the sequel to "PINK HOUR" on Sep 11th. You can get it free! So check it out and have fun!
About Game
C&F Inc. teleporters are going offline all over the place, and it's up to an intrepid frog employee to fix the situation.
A classically-styled 2D side scrolling action game packed with adventure.
You are a bipedal frog and a master of the Custodial Sciences, charged with the unenviable task of ridding your company's teleporters of strange black creatures.
Fight for your life through a menagerie of unique monsters while getting your hands on exciting new tools of the trade.

Kero Rhythm Soundtrack
Starting May 11th, the 24 track Kero Blaster soundtrack, Kero Rhythm, will be available for purchase as well. Kero Rhythm will be available for $4.99, while a Kero Blaster/Kero Rhythm set will be available for purchase for $9.99. Don't miss out on this amazing bundle deal!
Controls
Controls can be changed from the menu. The default controls are listed below. Gamepads are also supported out of the box.
-Gameplay-
Move Left/Right: "←"/"→"
Look up: "↑"
Jump: "Z"
Shoot: "X"
Open Menu: "ESC"
-Dialogue Scenes-
Proceed to next line: "Z"
Troubleshooting
In case you experience performance issues while playing the game, the following fixes may help.
[Start-up errors]
・Solution 1: Make sure you have the most current version of Direct X for Windows installed. http://www.microsoft.com/en-us/download/search.aspx?q=directx
・Solution 2: Try re-downloading the game. Some files may have been corrupted. Be sure you are downloading the game from an official distributor.
・Solution 3: Try using different compression/extraction software, as it is possible that the data was corrupted while unpacking the data.
[Slow or choppy gameplay]
・Solution 1: Try changing the screen size of the game. Changing it to windowed mode may solve the problem.
・Solution 2: Try changing your computer's display settings in Windows. In some cases, changing these settings can solve certain issues.
・Solution 3: Update your Windows drivers to the most current releases. Updating graphics drivers in particular can solve many issues.
[Gamepad calibration issues]
・Solution 1: Be sure to avoid pressing any buttons on the gamepad while starting the game. Holding a button during start-up can cause in-game issues.
PAX East Megabooth Alumni
It's dense and perfectly paced, just begging to be replayed over and over. - Destructoid -

An excellent run-and-gun shooter that plays beautifully on both PC and mobile; the only sticking point for some players will be its relatively short length. - Usgamer -
Kero Blaster is a magnificent run and gun, colorful, well-designed, offering a great curve of progression. - Gameblog.fr -

It's short. Very short. But it's also a great game that those looking for a retro-looking action game should definitely consider. - Vandal Online -
Another state of the art Studio Pixel retro production. - 3D Juegos -
Creator's Voice
Regardless of how you may feel about frogs, be sure to give this game a try!
---
| | |
| --- | --- |
| Windows | OS:Windows XP(DirectX9.0c) / Windows 7(DirectX 11) |
---
User reviews
One of the greatest indie platformers ever
It comes as no surprise that everything Pixel Amaya touches turns into indie gold. Kero Blaster is no exception.

It has everything Cave Story had: great music, characters and uber-tight mechanics, while at the same time remaining somewhat more accesible both gameplay, scope and story-wise.

This is a MUST game for plataformer lovers. 10/10 in my book!
posted on 2015-05-30
16:53:55 by Tromino
---