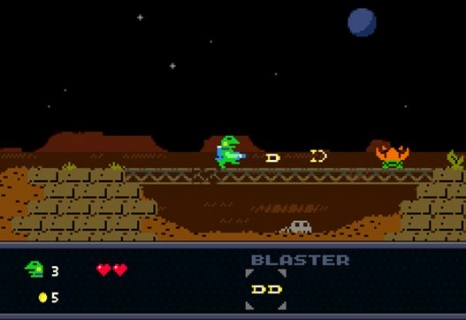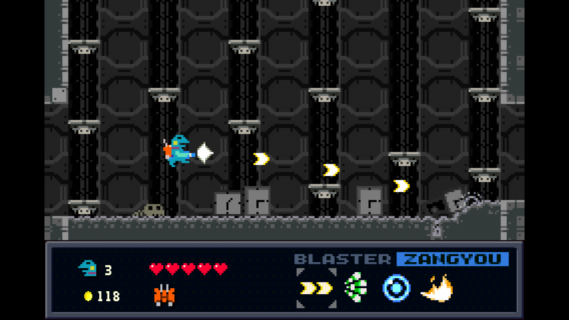 You can also have
Kero Rhythm (Kero Blaster OST)
$5.99

Total 30 tracks from Kero Blaster.
Kero Blaster/Rhythm set
$13.99

Kero Blaster/Rhythm set in a bargain price!
---
Get ready for a ribbeting experience!
"Cave Story" creators PIXEL have added NEW stages and more gameplay to their 2D indie side scrolling adventure.
---
STEAM KEYS: All users that purchase Kero Blaster on PLAYISM will receive a FREE Steam key once the game is released on Steam! (Steam key can be activated after Nov/11)
"Kero Blaster ZANGYOU Mode" update released on Oct 11th!
We just released the upgrade of Kero Blaster, "Kero Blaster ZANGYOU Mode" which has more stages than the original.
We increased the price due to this upgrade, but...
Bought the game before October 11th? Claim this update, FREE! (Just download the game again from your game vault)
<How to keep your savedata from the previous version>
In the game folder, there is a folder named "rsc_k", within that folder is another folder called "profile", this will contain your savedata.

If you want to keep the savedata from the previous version, please copy your old "profile" data into the new KeroBlaster "rsc_k" folder.

If you already beat the game with the "GREEN" frog, you will get a popup saying "Now ZANGYOU mode is unlocked!" when you start the new version.
Also, we just released "PINK HEAVEN"which is the sequel to "PINK HOUR"on Sep 11th. You can get it free! So check it out and have fun!
About Game
An indie classically-styled 2D side scrolling action game packed with adventure.
Starring a salaryman (bipedal frog) who collects a variety of weapons, fights outlandish monsters and visits strange lands on his business trips. Beating normal mode unlocks the challenging ZANGYOU (Overtime) mode, newly added as of October 2015.
Fight for your life through a menagerie of unique monsters while getting your hands on exciting new tools of the trade.
The game is also compatible with game controllers, if keyboard controls just aren't working out for you.
Kero Rhythm Soundtrack
30 track Kero Blaster soundtrack, Kero Rhythm, will be available for purchase as well. Kero Rhythm will be available for $5.99, while a Kero Blaster/Kero Rhythm set will be available for purchase for $13.99. Don't miss out on this amazing bundle deal!
Controls
Controls can be changed from the menu. The default controls are listed below. Gamepads are also supported out of the box.
-Gameplay-
Move Left/Right: "←"/"→"
Look up: "↑"
Jump: "Z"
Shoot: "X"
Open Menu, Skip scene(See the ending at least once) : "ESC"
-Dialogue Scenes-
Proceed to next line: "Z"
Select with directional keys
Troubleshooting
In case you experience performance issues while playing the game, the following fixes may help.
[If the game does not start up properly]
1. Check that the files have been fully extracted.
2. Try installing the latest version of Direct X. (Run contained file dxwebsetup.exe)
3. Try installing Visual C++ runtime (for 32 bit OS specs run "vcredist_x86.exe"; for 64 bit OS specs run vcredist_x64.exe)
4. Try downloading the game itself a second time. There are cases where the game file itself is broken.
[If the game is running slowly]
1. Try changing the screen size. Window mode can be toggled from the menu screen.
2. Change your Windows screen settings. This can improve performance.
3. Try updating your Windows driver. Performance can be improved by updating drivers related to graphics.
[Controls are poorly distributed for the keyboard/controller]
You can change the control settings at the menu screen. Under default settings, press ESC to bring up the menu screen.
[Game controller is unresponsive]
Try starting up the game again without touching any of the buttons on your controller.
[Why I cannot play ZANGYOU mode?]
You need to beat the game first to play ZANGYOU mode. If you already beat the game in the previous version, please see <How to keep your savedata from the previous version>on the top of this page.
PAX East Megabooth Alumni
It's dense and perfectly paced, just begging to be replayed over and over. - Destructoid -

An excellent run-and-gun shooter that plays beautifully on both PC and mobile; the only sticking point for some players will be its relatively short length. - Usgamer -
Kero Blaster is a magnificent run and gun, colorful, well-designed, offering a great curve of progression. -Gameblog.fr -

It's short. Very short. But it's also a great game that those looking for a retro-looking action game should definitely consider. -Vandal Online -
Another state of the art Studio Pixel retro production. - 3D Juegos -
Creator's Voice
Regardless of how you may feel about frogs, be sure to give this indie game a try!
Added some new stages and music, 10/11/2015. Price revised to reflect updates. Update for the iPhone version scheduled for the same day. Note that the game contents are basically the same for PC and iPhone versions.
---
Minimum system requirements

Windows

OS:Windows XP / Windows 7 / Windows 8.1

Microsoft Visual C++ 2010 runtime (included)

DirectX (installer included)

Compatible with game controller

Full screen mode / Window mode
---
User reviews
---