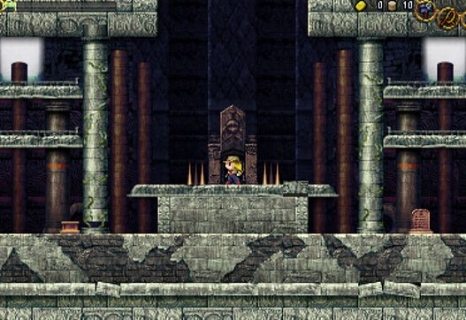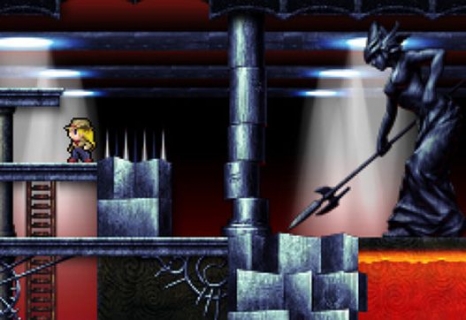 You can also have
| | | |
| --- | --- | --- |
| LA-MULANA2 REWARDS $15 | $15.00 | |
| LA-MULANA2 REWARDS $25 | $25.00 | |
| LA-MULANA2 REWARDS $35 | $35.00 | |
| LA-MULANA2 REWARDS $45 | $45.00 | |
| LA-MULANA2 REWARDS $55 | $55.00 | |
| LA-MULANA2 REWARDS $75 | $75.00 | |
| LA-MULANA2 REWARDS $100 | $115.00 | |
| LA-MULANA2 REWARDS $150 | $165.00 | |
| LA-MULANA2 REWARDS $256 | $281.00 | |
---
Explore the dangerous ruins of Eg-Lana with Lumisa Kosugi in this free Kickstarter demo of La-Mulana 2.
---
If you enjoy the demo for La-Mulana 2, be sure to pledge to the La-Mulana 2 Kickstarter here.
You can also pledge via PayPal. Choose your preferred pledge and press Add to Cart.
Overview
This demo is a prototype demo of La-Mulana 2 running on a modified version of the original La-Mulana 1 engine. As such, this demo is meant to be a sneak peek at La-Mulana 2, but not necessarily indicative of the final product.
For more information on the rewards available to Kickstarter backers, be sure to visit our official Kickstarter page here.
Story
It's been 5 years since the origin of all civilization was unearthed by the brave archaeologist Lemeza Kosugi, deep within the halls of La-Mulana.
The ruins have since collapsed, but research into the cause has been inconclusive. The old entrance to the caves, however, has become a popular tourist destination.
The people of the village, long known as the protectors of the ruins and as the 7th child of "Mother", the creator fo all humanity, have been searching for a new meaning to their existence.
However, monsters have begun to appear around the old entrance to the caves. Perhaps Mother's powers of creation were not all destroyed in the ruins' collapse.
The village Chief reaches out to Lumeza's archeology society for help, but receives no response. He soon finds out that the archaeological society has come under fire from the public, as many hold them responsible for La-Mulana's collapse.
Eg-Lana, known as the other side of the La-Mulana ruins, was once used as a penal colony by nearby settlers.
It is a place full of evil, malice, and hate...
Can Lumisa solve the mystery of Eg-Lana?
The Characters
Lumisa Kosugi
(21 years old. 4th Generation Japanese. Protagonist)
Some say she is Lemeza's wife's daughter from a previous marriage, while others believe she's Professor Shorn's illegitimate child. Either way, she is a Kosugi; that much is clear. With the request to search the ruins from Xelpud in hand, she travels to La-Mulana to make her archaeological debut.
Lemeza Kosugi
(36 years old, the original protagonist)
Tales of his exploits in the ruins of La-Mulana may be known worldwide, but he was also responsible for the ruins collapsing, and has gone into hiding as a result. His desire to explore has not faded, however, and still finds time to go spelunking in secret.
Shorn Kosugi
(67 years old)
After revealing the "treasure of all life" brought back from the ruins of La-Mulana, he returned to an hermetic life once more. Although he quit after finishing his research on "The root of all life", he finds himself slowly drawn back into the world of archeology.
Xelpud The Elder
(Age Unknown)
Upon the collapse of the La-Mulana ruins, his life as the 7th child came to an end. He's been spending his time running the "La Mulana ruins tourist spot" as a method of once more finding a purpose in his life. As a result, he's become quite wealthy, and now lives a life of luxury full of beautiful women and fast cars.
Mulbruk
(3024 years old. She looks about 24.)
Since being released from the ruins, she has been happily living above ground, pretending to be a young woman. Using her amazing knowledge of history, she has become a treasure hunter. She's also grown quite fashionable.
REWARDS
Please be sure to purchase the appropriate shipping fee (as listed below) at the bottom of the page if you pledge for a physical reward.
INITIATE

==============================
You get both the Steam version and a DRM-free digital copy of La-Mulana 2 from Playism upon release.
Estimated delivery: Dec 2015
LOCKSMITH

==============================
You get one in-game skeleton key to unlock one of Lumisa's unique hidden costumes in La-Mulana 2, a Kickstarter-exclusive desktop wallpaper, a place on the official La-Mulana 2 Thank You page, access to the official Backer forum, "The Kosugi Archaeological Society", and all tier rewards above.
Estimated delivery: Dec 2015
KEYMASTER

==============================
You get another skeleton key to unlock 1 more unique hidden costume for Lumisa, the La-Mulana 2 digital soundtrack, and all above tier rewards.
Estimated delivery: Dec 2015
EXPLORER

==============================
Become a part of the development team with access to the alpha version during development, as well as access to the alpha forum, where you'll leave your feedback and help shape the final version of La-Mulana 2. You will also get four skeleton keys to unlock four unique hidden costumes for Lumisa in La-Mulana 2. All above tier rewards included. (A free Playism account is required to download digital backer rewards)
Estimated delivery: Dec 2015
RESEARCHER

==============================
The La-Mulana Digital Set! You get the La-Mulana 2 Digital Soundtrack, The Digital Artbook, and all above rewards. (A free Playism account is required to download digital backer rewards)
Estimated delivery: Dec 2015
ASSISTANT PROFESSOR

==============================
The Legacy Set! You get La-Mulana 1, the La-Mulana 1 Digital Soundtrack, the La-Mulana 1 Digital Artbook, and all above rewards! (A free Playism account is required to download digital backer rewards)
Estimated delivery: Dec 2015
$100+$15
PROFESSOR

==============================
The packaged deal! You get the physical packaged version of La-Mulana 2 with instruction manual. For backers outside of Japan, please include an extra $15 for shipping. (includes all previous rewards)
Estimated delivery: Dec 2015
$150+$20
BOXER

==============================
Show your love of NIGORO off to the world! You get a never-before-made physical boxed copy of La-Mulana 1 with instruction manual. For backers outside of Japan, please include an extra $20 for shipping. (includes all previous rewards)
Estimated delivery: Dec 2015
$256+$25
TWO FIFTY-SIX

==============================
You get a printed version of the La-Mulana 1 & 2 artbooks, along with a digital version of the Ultra hard 'one-hit-kill' edition of La-Mulana 1. For orders outside Japan, please include an extra $25 for shipping. (includes all previous rewards)
Estimated delivery: Dec 2015
$500+$30
SKELETON

==============================
Be a part of the adventure! Become a skeleton in the ruins of Eg-Lana. The skeleton will bear your name, and your choice of last words. You will also get a Kickstarter original La-Mulana themed t-shirt. For backers outside Japan, please include $30 extra for shipping. (includes TWO FIFTY-SIX tier rewards)
Estimated delivery: Dec 2015
---
Minimum system requirements

Windows
OS: Windows XP(latest service packs) with DX 9.0c
CPU:Intel® Pentium 4 / 2.0GHz
Memory: 1 GB RAM
Graphics: 128 MB VRAM, 3D accelerator compatible w/ DirectX 9.0c
HDD: 500 MB HD space
Sound: Compatible with DirectX 9.0c
DirectX: DirectX 9.0c
---